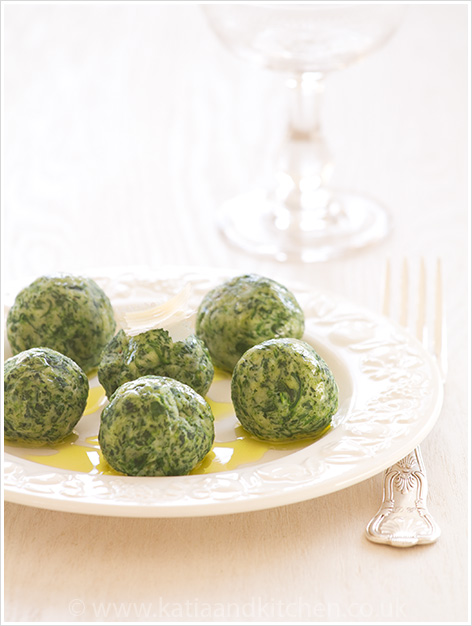 I'm really in love with the simplicity of this dish, it's all about just a few but good ingredients.
And please, don't think I'm getting lazy or not very keen on my cooking if for once I share a recipe where a good extra virgin olive oil, straight from the bottle, it's the only "sauce" : ) Just for the record: you can top gnudi with brown butter or anything you like, but this oil has just come from Spain and was made by dear friends of mine, so I couldn't wait to try it in this lovely way.
Back to the recipe, where was I?! Yes, Gnudi, or "naked ravioli", can be easily described as ravioli filling without their pasta wrapper. It's a traditional Tuscan dish and the word "gnudi" in Tuscany simply means naked. They're similar to gnocchi, but they have far less flour and so they're definitely lighter and softer. For this reason they can be delicate and sticky to handle, so it's important to squeeze out every liquid from spinach and ricotta and let the dough cool in the fridge for at least 30 minutes before shaping them.
There're several versions of gnudi, with or without spinach or more or less flour in the dough. I actually put a bit more flour to help making a proper ball shape, it also prevented too much stickyness (yes, that was lazyness, I admit) but you know what, they were still pillowy and delicious as I wanted them!"
Spinach and ricotta gnudi
(Serves 2)
250 gr ricotta
230 gr fresh spinach
1 large egg yolk
20 gr grated parmesan
10 gr grated pecorino (optional)
80 gr flour
nutmeg, to taste
sea salt
extra virgin olive oil
Cook the spinach in boiling salted water, drain and transfer to a colander. Let cool slightly, squeeze the spinach dry and finely chop it.
Using a spatula mix in a bowl ricotta, spinach, egg yolk, cheese.
Stir in flour, salt (about ¼ tsp) and nutmeg to taste and mix well to combine.
Let the mixture to cool in the fridge for 30 minutes.
Gently form every small ball working on a floured surface, and set aside until all gnudi are formed.
Bring salted water to a boil and cook in batches, you don't want to crowd the pot.
After a few minutes they will float to top, remove with a slotted spoon and serve with brown butter and sage or good olive oil. Don't forget a generous spoonful of grated parmesan.
---