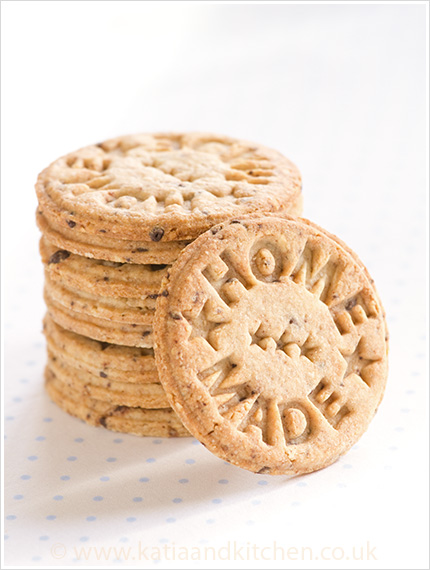 I like cookies, I like the idea, I like the various shapes, but I'm not a big fan of the dryness which usually comes with them and at the same time I'm very fussy about flavours and textures. Nevertheless, I love making cookies, it's relaxing and cosy, and I usually love offering them to friends and colleagues, don't know why ; )
However, when it comes to hazelnuts, there's the exception to the rule… I can't resist! There's like an endless love story between hazelnuts and me. It all started decades ago when, in my childhood, I gave up my usual pink strawberry ice-cream and, following my parents example, I turned to the brown and seriously heavenly hazelnut ice-cream… and that was love at first sight or, if you prefer, love at first scoop ; )
So, here is one of my hazelnut cookies recipes, one of the easiest and most delicious ones in which the amazing hazelnut flavour is not overpowered by butter nor other ingredients.
One more thing: Isn't that cookie stamp lovely?!"
Hazelnut cookies
(30-35 cookies)
230 gr plain flour
100 gr unsalted butter
100 gr hazelnuts
50 gr dark chocolate, chopped
45 gr brown sugar
45 gr caster sugar
1 organic free-range egg
salt, a pinch
Toast hazelnuts in a shallow baking pan until fragrant, about 5 minutes. Remove any loose skins and cool to room temperature.
Pulse nuts and sugar in a food processor until finely ground.
In a food processor, or in a mixer, place sifted flour, a pinch of salt and cold butter cut into small pieces (at this stage the butter hasn't to be soft).
Process just until the mix texture resembles breadcrumbs. Add sugar, nuts, chocolate and mix for a few seconds.
Toss in the beaten egg and process until the butter is well combined.
Dump the dough out onto a floured work surface and press it together.
Cover the dough with cling film and freeze for 1 hour.
Position 2 racks to the center of the oven and preheat to 180.
Line 2 baking sheets with parchment paper or non-stick baking mats.
Using a rolling pin, roll the dough out to a thickness of about 0,5 cm. If the dough seems to be cracking, push it back into place and continue rolling.
Cut out disks with a cookie cutter. Transfer to the baking sheets. Bake for 12-15 minutes or until the edges just start to colour.
Allow to cool on the baking sheets for 2 minutes. Transfer to wire racks to cool completely.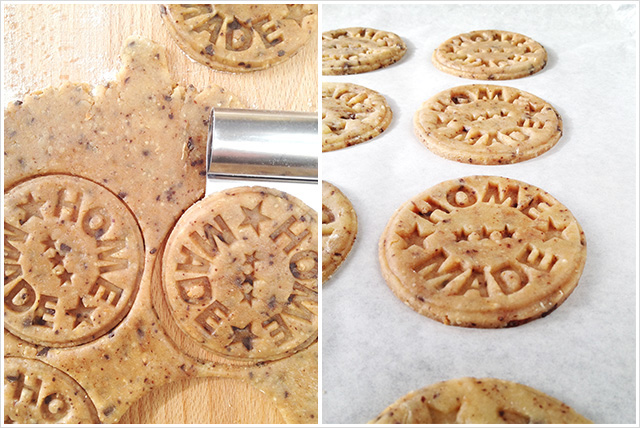 ---