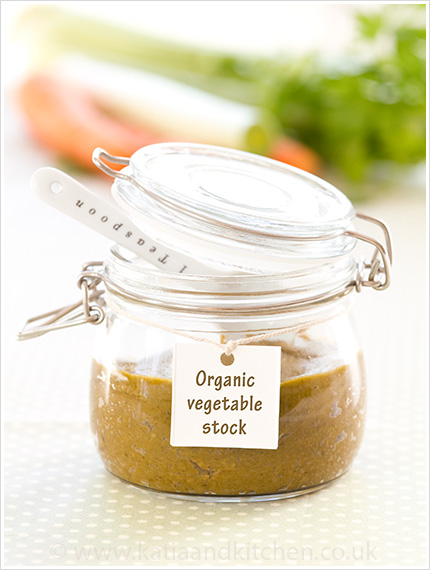 Ladies and gentlemen… a vegetable stock concentrate in a jar!
I know, it's not a colourful and mouth-watering cupcake, and even if I struggled to take a nice picture trying to make it appealing… it's still a green vegetable stock concentrate.
However, you know, I'm a homemade stuff lover and I'm a big fan of genuine, organic and local ingredients, so I love sharing what in my kitchen is made from scratch. Stock included.
You can easily make it by cooking a mixture of rock salt and fresh organic veggies, and store it in the fridge or freezer for a few months. Just dissolve a teaspoon of this vegetable stock concentrate in hot water and you'll get your homemade vegetable stock ready to use.
Sounds easy, doesn't it?
And please, don't keep buying vegetable stock in cubes or, even worse, in plastic bags when you can choose your own best ingredients.
Homemade vegetable stock concentrate
(about 350 gr)
200 gr celery
200 gr carrots
1 onion
1 leek
250 gr rock salt
10 gr fresh parsley
10 gr fresh basil
2 thyme sprigs
1 bay leaf
1 sage leaf
1 rosemary sprig
Peel, wash and roughly chop all the vegetables.
Process all the ingredients pulsing until a small, rough chop forms. Depending on the size of your food processor, you might need to process in batches.
Pour the vegetable mixture and rock salt into a heavy-bottomed pan (a cast iron pan does the job very well). There's no need to add any water because the salt will quickly turn to liquid.
Cook over a very low heat untill the liquid evaporates (about one hour and a half).
In a food processor, puree the cooked vegetable mixture and, if you want a very concentrate paste as I do, reheat the mixture in a large non stick pan for about 10-15 minutes, stirring carefully.
Transfer to very clean storage containers or jars and freeze or refrigerate. Because of the salt, the stock will be very easy to scoop out a spoonful at a time.
To use: mix 1 teaspoon vegetable concentrate stock with 1 litre of hot water and adjust on your personal preference, just keep in mind it is quite salty and concentrate.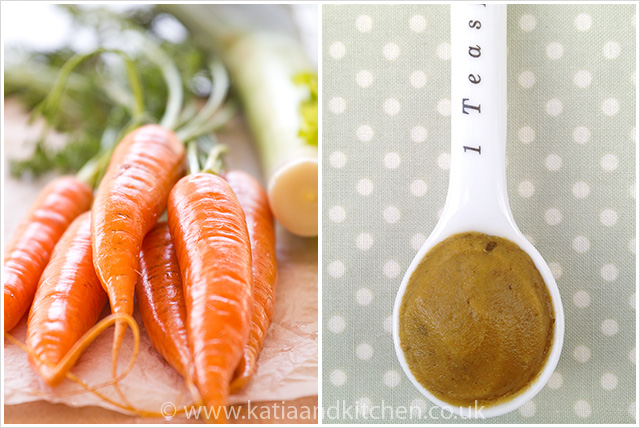 ---