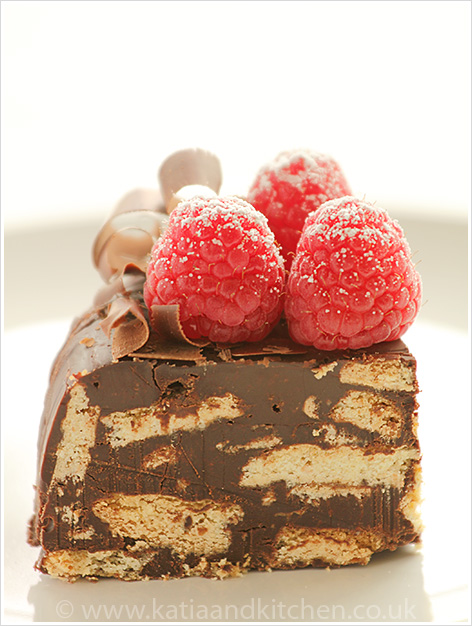 I usually enjoy cooking for hours in my kitchen, but sometimes I simply do not have enough time to cook neither to post any new recipe so… would you excuse me if sometimes I just share one of my old recipes? I bet you don't mind that much if it comes from my previous Italian blog, do you? : )
Believe me, you can make this impressive and delicious chocolate biscuit cake in just a few minutes: all you need is very good quality chocolate, cream and digestive biscuits which have a lovely crisp and sandy texture. That's all. Yes, you need just these ingredients, five minutes and, needless to say, a little imagination.
Just for the records, as many of you know, this cake is inspired by one of the Royal Wedding's cakes (ehmm, I'm talking about the concept, of course!), said to be Prince William's favourite.
And it's one of the best quick and easy desserts ever.
Chocolate biscuit cake
(Serves 6-8)
200 gr Digestive biscuits
250 gr Dark chocolate 70%
250 ml whipping cream
Break the chocolate into pieces.
In a heavy-bottomed saucepan, over very gentle heat, bring the cream to a boil and remove from the heat.
Stir in the chocolate, mix all together so it's mixed up well and the chocolate is melted.
Once the chocolate is melted, stir in the digestive biscuits, roughly chopped.
Line a round cake tin with clingfilm – tuck it in as tight and smooth as possible, so there are no gaps or bumps and leaving overhands.
Strain the mixture into the cake tin, press down well and cover with clingfilm straining well to eliminate air bubble (use the back of a metal spoon).
Refrigerate until set, I would say overnight.
Decorate with chocolate curls and raspberries.
Take it out just 10-15 minutes before serving, but cut it into slices while is still very cold.
Suggestion: it's not so sweet, so you could add some sugar and adjust on your personal preference.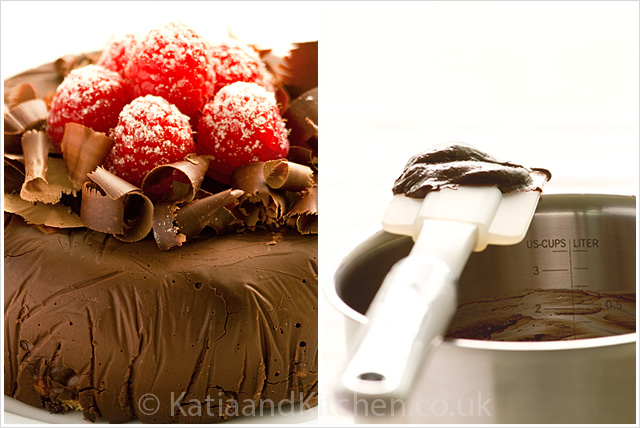 ---