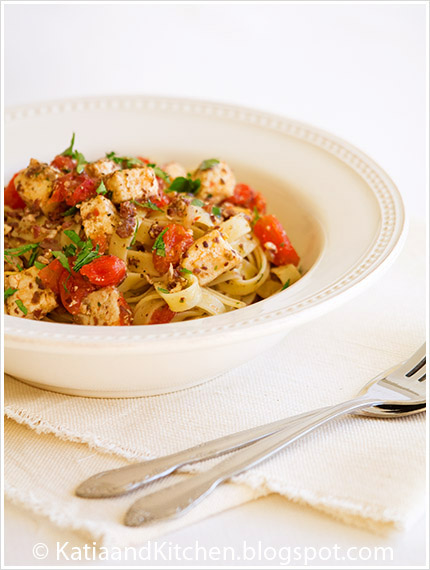 How can I be an Italian food blogger without posting a pasta dish? Even if, considering my slow posting in the last few months, I should properly say: how can I be a food blogger without posting any dish at all? Shame on me.
Back to the recipe: have you ever tasted how good is the combination of olive tapenade with some delicious fish ragout?
That's extremely good, and if you add some pasta to complete the dish… well, needless to say… you're going to love it!
Pasta with swordfish ragout and black olive tapenade
(2-3 servings)
Fish ragout:
1 small garlic clove
1/2 shallot, finely sliced
200 gr of swordfish
150 gr cherry tomatoes
2 anchovy fillets (optional)
30 ml dry white wine
extra virgin olive oil
salt, fresh pepper
180 gr pasta
Olive tapenade:
40 gr black olives (Taggiasca olives are ideal)
1 tsp of pine nuts
1 tsp of capers
1 spring onion or half small shallot
1 anchovy fillets
1 tbs of fresh parsley
extra virgin olive oil
pinch of chilly
Chop the garlic and shallots finely (even if I usually don't chop the garlic because I prefer to remove it before serving).

Wash, skin and chop the swordfish into small cubes.

Blanch the cherry tomatoes in boiling water for 10 seconds, then put in ice water and peel the skin and cut tomatoes in half.

In a non-stick skillet, sauté the garlic, anchovy fillets, the shallot and a pinch of chilly (if you like) in 2 Tbs of olive oil over medium heat until transparent.

Add the diced swordfish, season and cook, stirring, until the fish changes colour slightly, about two minutes. Add the wine, bring to a boil and add the cherry tomatoes, season with salt and fresh pepper and cook for about 5-6 minutes until the sauce is thick and fragrant. Taste, and adjust the seasoning to taste.

For the tapenade

: in a food processor, combine all the ingredients except the olive oil. Using the pulse button, process until coarsely chopped and well blended. Continue to process, slowly adding the olive oil to reach desired consistency. Season to taste with salt and pepper.

Bring the pasta water to a boil and salt generously. Cook your pasta al dente according to the timing directions on the package.

Drain the pasta and toss with the sauce and the olive tapenade in the pan or in a pasta bowl, sprinkle with chopped parsley, extra virgin olive oil and serve.