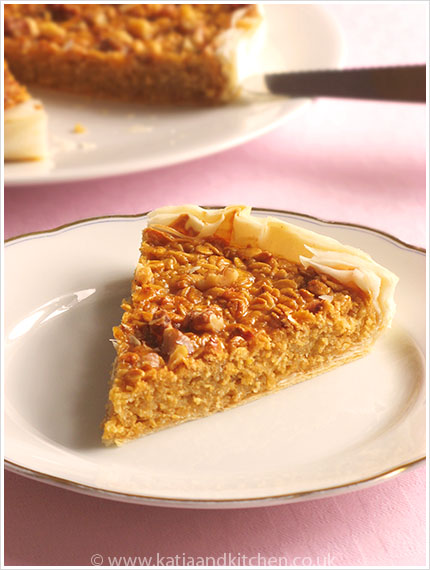 What do you think about this honey and Agave nectar tart?
If you're thinking that I intend to make an attempt on shaking up your glicemic index… you're wrong!
For the record: The Agave nectar has been used as a sweetener in Mexico since Aztec times.
Primarily made up with of the fruit sugar fructose, it contains 25% fewer calories than normal sugar and is 25% sweeter, so you need far less. I found this recipe in an English magazine and I really loved the idea to make a filo pastry case with this sweetness inside.
My changes: I added some walnuts because I love to match them with the honey and I replaced the breadcrumbs with the oat flakes. I don't know what you think about this, but the idea to stir some breadcrumbs into a nice honey pudding sounded so sad!
Honey and agave nectar tart with walnuts
(serves 8.)
6 frozen filo pastry sheets
150 ml agave nectar
120 ml clear honey
zest of 2 unwaxed lemons
8 tbsp half-fat crème fraîche
1 tbsp ground ginger
3 eggs (1 egg and 2 yolks)
150 gr oat flakes
50 gr walnuts
Preheat the oven to 180° C. Take the filo out of the freezer 30 minutes before using.
Grease each sheet with oil and use to line a lightly oiled loose bottomed tart tin, overlapping the sheets and letting them to overhang the sides a little (work it quickly because the filo pastry is very fragile!).
Transfer to a baking tray and bake for 8-10 minutes or until lightly golden.
In a bowl, whisk the agave nectar, honey, lemon zest, crème fraîche, ground ginger, egg and yolks. Stir in the oat flakes.
Pour the filling into the tart case, sprinkle with chopped walnuts and bake for 35-40 minutes.
Leave to cool before removing the tart from the tin.
It's delicious served with vanilla yogurt or ice cream.