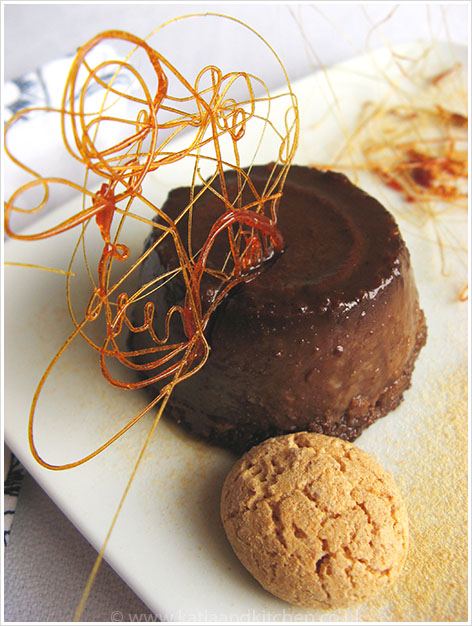 I chose to start this blog with a fragrant and soft bunet.
I love puddings and this is a typical Piedmontese dessert made with amaretti and chocolate.
I've realised, that when I think of bunet, such as now whilst I'm writing, I think of Turin, the baroque architecture surrounded by the Alps… Bunet is a must, it's home and this makes it my beloved pudding.
I also add some espresso to give a little extra bite, joining these mixtures of flavours and scents that make this dessert to die for. I have forgotten to mention the caramel, you can't live without it in a bunet, it also becomes a fanciful garnish if you work it while it's warm with a fork, a pleasure for the eyes! Come up with an excuse to make it and pamper yourself, it's worth it.
Bunet with chocolate and amaretti
(Serves 6)
3 free range-eggs (2 whole and 1 yolks)
¼ liter fresh whole milk
1 hg amaretti (1 cup)
3 tbsps dark cocoa powder
75 gr. Caster Sugar (of which 25 gr. for caramel)
¼ cup espresso coffee
half of an organic lemon zest
1 vanilla pod
Preheat the oven to 180 degrees.
Pour the milk into a pan and add the vanilla pod. Bring close to the boil, then set aside for 30 minutes to infuse.
Meanwhile in a mixing bowl, beat sugar and eggs with a fork, add cocoa, crushed amaretti and the other ingredients.
When the mixture is ready start making the caramel. Put the remaining sugar in a low heated saucepan, the sugar will melt and turn liquid around the edges, using a wooden spoon, give it a gentle stir and continue to cook and stir until the sugar has transformed from crystals to a syrup and is the colour of runny honey – the whole process should take 10-15 minutes. Then quickly pour a bit of the caramel into 6 moulds or pour the whole caramel in a bigger one. Take care because it's really hot!
Remove the vanilla pod and pour the milk into the previous mixture, stir and pour into the moulds. Place the moulds inside a larger pan that you will have filled with hot water (at a level which is about 3/4 of the hight of the moulds), cover this sort of "double pan" with foil and bake for about an hour.
Let it cool in the fridge. When ready, pass a knife along the borders of the moulds so that the bunet detaches from it, turn it upside down on a dish. It should fall out very easily. What you will then have is a delicious bunet surrounded by a golden caramel syrup!