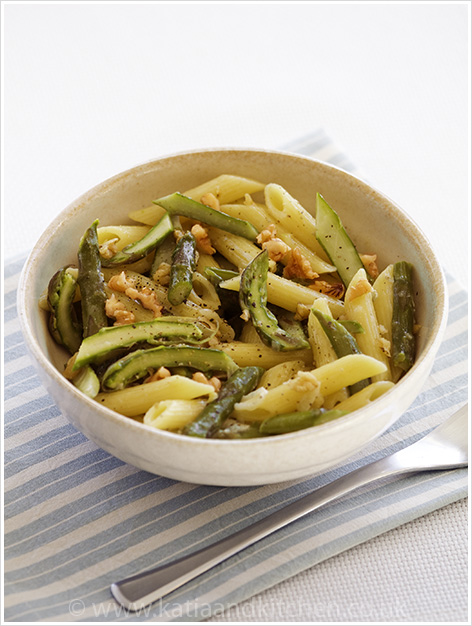 Ok, I'm not going to talk again about the lovely combination of flavours or whatsoever. This is just one of my pasta dishes, one of thousands of pasta dishes in the world, but it doesn't matter: it was good, it was photogenic so I took a picture and I decided to share with you :- )
The gorgonzola cheese is a real treat, I love the creaminess and the deep flavour, however it can be substituted with goat cheese which I normally like, especially if combined with pasta. And I love the asparagus, one of my favourite spring vegetable.
Put this dish together in 10 minutes and enjoy it as we did.
Penne with asparagus, gorgonzola cheese and walnuts
(Serves 2)
180 gr. Penne or other pasta 
150 gr. asparagus
60 gr. Gorgonzola cheese
1 shallot, finely sliced
30 gr. walnuts
2 Tbsp grated parmesan
extra-virgin olive oil
Bring a pot of water to a boil over high heat. Salt the water and add the pasta. Cook to al dente and drain.
In the meanwhile heat a tablespoon of olive oil in a large skillet over a medium heat.
Brown gently the shallot and, after a few minutes, stir in the asparagus cut into pieces.
Cook for a couple of minutes, add a little of the boiling water (because in the meanwhile you're cooking your pasta) and cook for 5 minutes, until tender but not overcooked.
Then add the gorgonzola cheese, season to taste and remove from the heat.
Stir in pasta (both pasta and vegetables cooking should take around 10 minutes), add the walnuts and parmesan and stir until well combined. Serve hot sprinkle whit some olive oil and a freshly ground pepper if you like