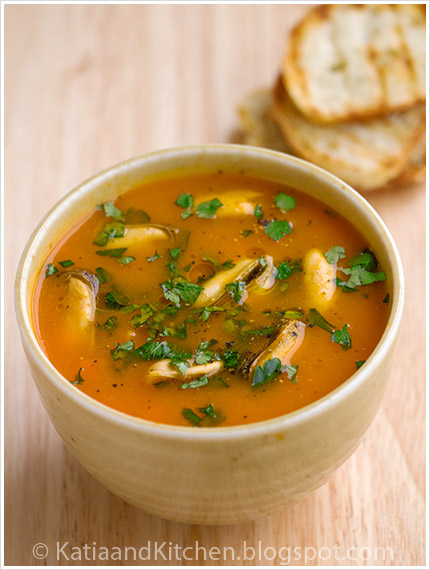 The very first time I tried this soup was in San Francisco, at that time I only had my Italian blog and this is one of my old recipes coming from it. As you can see, sometimes I mix new and old recipes trying to update this brand-new website and bring it back on track, but at the moment it's not that easy for me.
Back to the recipe, have you ever tried creamy vegetable soups with mussels or other seafood? I love that combination: there's something comforting about the marriage of carrots and mussels, especially if we add some mussel cooking liquid to the soup… there's all the flavour in there! : )
Carrot and mussel soup
(Serves 2)
350 gr organic carrots, sliced
16 mussels
100 ml dry white wine
450 ml vegetable stock
2 cloves of garlic
1 Tbs of fresh parsley, chopped
1/2 tsp of sugar
Sea salt and fresh black pepper
Extra virgin olive oil
Reserve 1 carrot and slice the remainder.

Heat a tablespoon of olive oil in a saucepan, add carrots, 1 clove of garlic, sugar and cook over low heat, stirring occasionally, for a few minutes. Increase the heat to medium, pour in the vegetable stock and cook, season with salt and bring to a boil. 

Reduce the heat, cover and simmer for 20 minutes, stirring occasionally, for 20-25 minutes. 

Cut the remaining carrot into small cubes and cook in a small pan with a pinch of sugar and some of the vegetable stock. 

Scrub the mussels under cold running water and pull off the "beards".  Discard any with broken shells or that do not shut immediately when sharply tapped. 

Heat a pan over medium heat, pour in the mussels, the wine and the remaining garlic. Cover and cook over high heat, shaking the pan occasionally for 4-5 minutes or until they open. Remove the pan from the heat and lift out the mussels discarding any that remain shut. 

Remove the mussels from the half shell. Strain the cooking liquid, better through a cheesecloth-lined strainer into a bowl.

Remove the pan off carrots from the heat and let cool slightly, then ladle into a food processor, add the mussel cooking liquid and process. 

Return the soup to the pan, season to taste and reheat gently for a few minutes. 

Ladle into bowls, gently stir in the mussels, sprinkle with the parsley, fresh ground pepper and extra virgin olive oil.