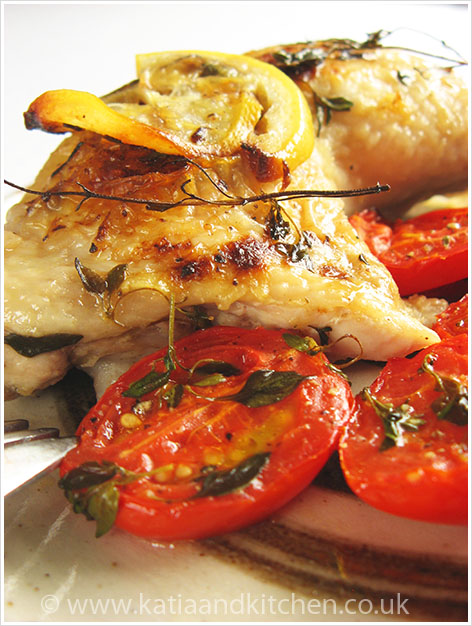 All you need, or better, all I often need on this island is: SUNSHINE!
I spent half of my Sunday singing this famous Beatles song, I hummed with bitter irony changing the words. You're right, the original' "All you need is love" is much better, but when you get up on Sunday morning hoping for a sunny day and find a grey sky that gives you a sad welcome.. everything becomes tricky. Moreover, your mood gets spoilt if you realize petrified that the radiators have turned on: the thermostat reached the infamous 12 ° C.
No, I can't stand this sort of things especially during the summer.
So today, although I have other tasty recipe to publish, I decided to share with you my sad Sunday lunch: a baked chicken with thyme and lemon… just to proof how I'm not in a mood for other brilliant cooking performance.
Despite this, my free-range chicken revealed its quality, marinated and rich in flavour was a nice solace in this awful Sunday weather.
Roast lemon chicken with thyme
(Serves 4)
1 free-range chicken (or 4 bone-in chicken breasts)
2 large unwaxed lemons
2 garlic cloves
Fresh thyme
extra virgin olive oil
salt and pepper
Wash, drain and put the chicken in a roasting tin and season with salt and pepper.
Pour over half a glass of extra virgin olive oil and squeeze over the juice of the lemons; add the garlic, the lemon shell halves and scatter a generous handful of fresh thyme in the roasting tin.
Cover with cling film and put into the fridge for 3-4 hours or, much better, over night.
Preheat the oven to 180°C and in the meanwhile take the chicken out of the fridge.
Roast for about 45-50 minutes till the skin is golden (cooking time depends of the thickness)
Serve with thyme roasted cherry tomatoes if you like: cut the cherry tomatoes in two halves and place them in a roasting tin covered with non-stick baking paper; season with fresh ground salt, thyme and a sprinkle of extra virgin olive oil and put into the oven with the chicken.