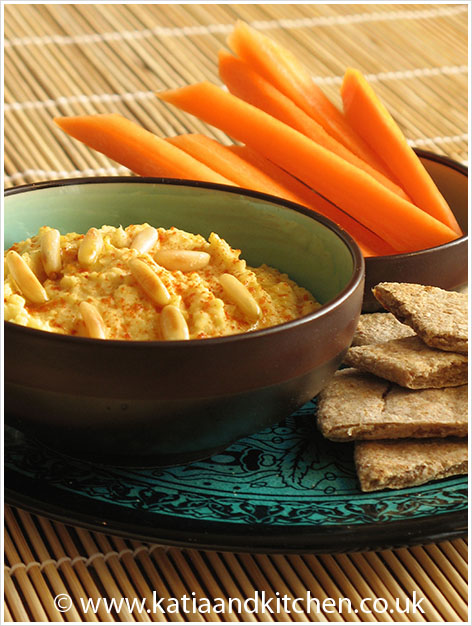 Usually this is supposed to be a nice appetizer for my easy and last-minute dinner parties.
Today (actually I wrote this post a while ago) I have made it at 11.00 a.m. and this is all I have for lunch. The point is that this morning I should have taken a flight to Turin but, due to the volcanic eruption in Iceland, the grey english sky is covered by a big ash cloud, in other words: closure of airspace across Britain for a few days!
Anyway here I am, my suitcase is ready and my fridge is empty; I'm hungry and I'm bloody annoyed! I can't fight against things like this, it's a volcano isn't it? I would like to know when I'm going to be able to leave, at the same time, despite my frustration, I open a chikpea can and I make this Hummus. Moreover, I need to keep myself busy so I take some pictures of this for my still under-construction blog.
I have forgotten to tell you: Hummus is one of the more popular Middle Eastern dips made with chickpeas, served with toasted sliced bread or crunchy vegetables. I also add some coriander and pine nuts to give more aroma and texture to the dip.
In the end Hummus is a great appetizer… and today it is my nice lunch and pastime.
Hummus with pinenuts
(Serves 6-8)
420 gr canned chickpeas, rinsed and drained
1 garlic clove, crushed
1 lemon, the fresh squeezed juice
50 ml extra virgin olive oil
2 tablespoons tahini
½ teaspoon salt
1 tablespoons chopped fresh coriander
2 tabs toasted pine nuts
a pich of red chilli or paprika if you like
Put the cheackpeas, garlic, lemon juice, oil, tahini and salt in a food processor and reduce to a dipping consistency.
Transfer to a bowl and stir in the coriander and pine nuts.
Sprinkle with some pine nuts and a pinch of paprika and serve with fresh crunchy vegetables or toasted sliced bread.