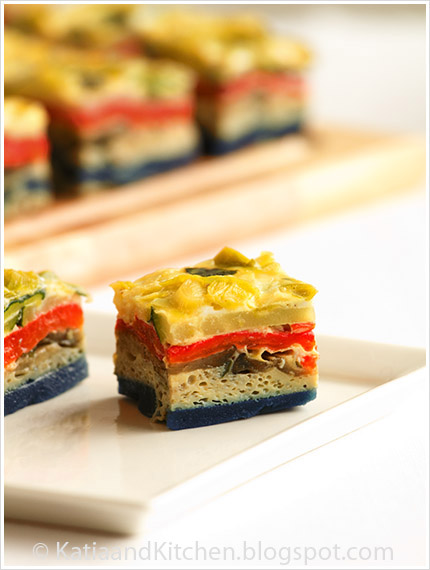 It's nice, isn't it?! Straight from the category "Impress for less" :- )
This vegetable and egg mixture is layered in a loaf pan to make a multicolour frittata cake, which can be easily sliced. It makes for a stunning presentation, especially if blue potatoes are incorporated.
This is an easy to make and versatile party dish: It can be made a day ahead and served warm or a room temperature.
To be more precise this is not just a frittata, but this is supposed to be a signature frittata by Francois Payard, one of the most popular French pastry chef in America.
Vegetable frittata di Payard
(15 – 18 pieces)
3 large free-range eggs
2 small red peppers
2 courgettes
1 small aubergine
1 leek
2 blue potatoes
1 Tbsp grated parmesan
1 handful fresh basil
salt and freshly ground pepper
extra-virgin olive oil
Preheat the oven to 200C and butter a loaf pan (25×14 cm)
Cut the aubergine, leek, potatoes and courgettes into ½ cm-thick slice. Cut the peppers in half and remove the ribs and seeds.
Coat the peppers with oil, place them on a backing sheet and roast in the oven for 15 – 20 minutes.
Remove from the oven (leaving the oven on), place them in a bowl and cover for 15 minutes to create steam. Then remove the skin, slice thinly and set aside.
Bring a pot of salted water to a boil, add the potato slices and cook just until you can pierce with a knife (6 min). Drain, set aside.
Place two Tbsp of oil in a saute' pan over a medium heat and cook the leek until tender (3 minutes). Remove the leek from the pan and set aside.
Cook the aubergine and courgettes on both sides until nicely browned (2 minutes per side).
Lightly beat the eggs in a bowl. Add the basil and parmesan, and season with salt and pepper.
Line the bottom of a loaf pan with the potatoes, covering the entire surface. Season and pour just enough of the egg mixture over the potato slices to cover them.
Then add a layer of aubergine slices, season and pout the egg mixture and then continue making a layer each of peppers, leek and courgettes.
Pour the remaining egg mixture over the top and bake for 30 minutes. Remove from the oven and let the frittata cool in the pan.
Once the frittata has cooled (better the day after), carefully unmold it by loosening the edge with a knife and turning the pan upside down on a cutting board. Trim the edges and cut it into squares.
Serve warm or at room temperature with a small dollop of cream fresh or a scallion cream cheese on top of each square.