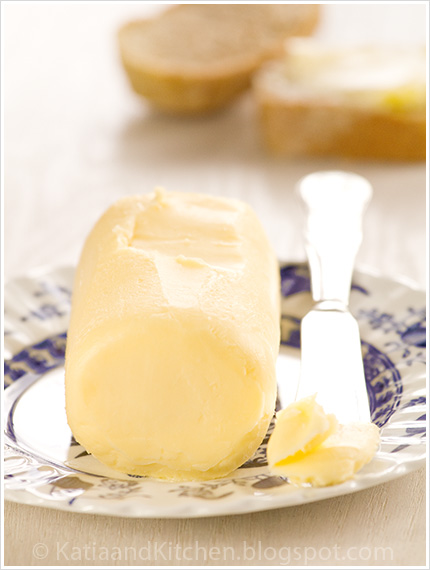 Have you ever made home-made butter yourself? That's such an easy process, and it is worth the effort (such a small effort!) especially if you're one of those who love fresh and creamy butter spread on bread and wherever. Well, I'm actually not used to eat butter every day, I have to admit I've always been a big fan of extra virgin olive oil; however, when it comes to butter… I love bringing to the table my fresh home-made one, and I'm so proud when I have English friends around… they love it! : )
So, I would suggest DIY butter to everyone, are you in?
Home-made butter
500ml fresh whipping cream (preferably organic)
… and an eletric mixer
Pour the cold cream into the mixer with a whisk attachment.
Whisk the cream at a medium speed until it is thick . First it will be softly whipped, then stiffly whipped.
Continue until the whipped cream collapses and separates into a grainy looking butterfat: the buttermilk will separate from the butter.
Pour the mixture (butter and buttermilk) through a clean strainer and drain well. The butter remains in the sieve while the buttermilk drains into the bowl (you can use buttermilk in bread, muffins and pancakes, however keep in mind that this liquid isn't the same thing as the cultured buttermilk that you buy in the store, which has been fermented.)
Knead the butter to squeeze out any excess liquid, you want to expel as much buttermilk as possible since any buttermilk left will sour very soon. Rinse the butter with cold water until the liquid rinsed from the butter is clear.
Drain well and transfer the butter to a clean airtight container, keep refrigerated and use within 7-10 days.
The butter also freezes well.