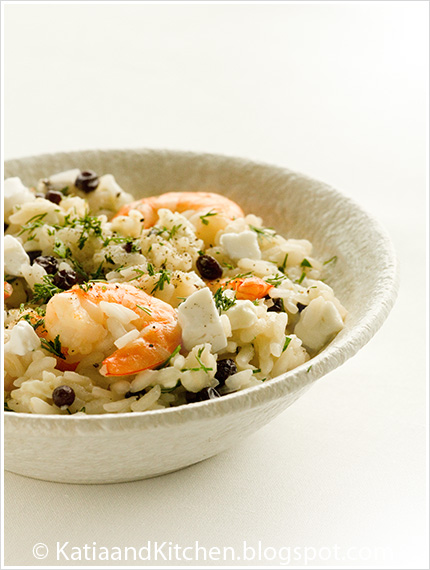 I've already told you about the Asian fish supermarket and its fresh and alive prawns, did't I?
Well, I have been tempted again : )
This risotto has been a surprise to me, I wouldn't never thought to put cheese and fish in the same dish, but all that ingredients work very well together: very tasteful, feta and dill add a real punch to the dish, however, the currant lend that touch of sweetness for a lovely and balanced flavour.
Prawn, feta and dill risotto
(Serves 2)
180 gr rice (Carnaroli or Arborio)
300 gr prawns, peeled and cleaned
40 ml dry white wine
400 ml fish stock
1 clove of garlic, finely chopped
1 small shallot, finely chopped
1 bay leave
20 gr currants, coarsely crumbled
100 gr feta
1 Tbsp fresh parsley, chopped
1 Tbsp fresh dill, chopped
Heat oil in a large heavy-based saucepan, add onion, garlic, bay leaves and stir over a medium heat for a few minutes or until onion is soft, then add rice and stir to combine well.
After one minute the rice will look slightly translucent add the wine and keep stirring. Once the wine has cooked into the rice, add your first ladle of hot stock, add the currant and turn down the heat to a simmer. Keep adding ladlefuls of stock, stirring and allowing each ladleful to be absorbed before adding the next.
After 8 minutes add prawns, stirring gently to combine with rice mixture, season and cook for another 3-5 minutes or until the rice is cooked (the prawns have to be just cooked).
Remove from the heat and gently stir in feta and and herbs, season again to taste.
Serve immediately with freshly ground pepper and chopped dill.