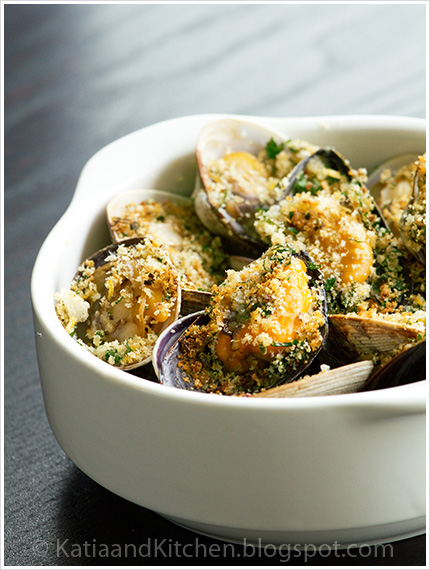 Have I already mentioned the large variety of fresh fish in Vancouver?
There's a lot of shops where to buy good fish in Vancouver, especially in Grandville Island which is one of the best places to get fresh and delicious fish. But to be honest with you there's an Asian supermarket which really impressed me for the seafood department where fresh fish, prawn and crabs swim in large holding tanks waiting to be chosen by discerning (and fussy) customers.
I wouldn't call it foodie heaven, at least not to my taste, but I have to admit I've never seen a wide variety of live fish like that in a shop. And, last but not least, the customers are allowed to chose what they want, especially if it comes to shellfish like oysters, clams, crabs and mussels… so I did.
This is the freshest mussel and clam gratin I probabily ever had :- )
If you prefer, dry wine can be substitute for the dry cider, and adding lemon zest, thyme, dill and parsley to the breadcrumbs you'll get a great flavour…. and the gratin smells soooo good!
Mussel and clam gratin
(serves 2)
500 gr mussels, scrubbed and bearded
400 gr clams, soak in cold water
50 ml dry white wine (or apple cider)
4 Tbsp breadcrumbs
1/2 unwaxed lemon zest, finely grated
1 Tbsp parsley, chopped
1 Tbsp dill, chopped
1 sprig of thyme
1 clove of garlic, finely chopped
1 Tbsp unsalted butter (15gr)
Place cider and thyme in a wide heavy-based saucepan and bring to a boil.
Working in batches, cook mussels and clams in cider, in a single layer, covered, for 1-2 minutes or until just opened.
Transfer to a colander place over a bowl and discard any unopened shellfish, then strain liquid through a sieve and reserve.
Remove mussels meat from shells, then divide clams among two shallow heatproof dishes and scatter with mussel meat. Pour two tablespoons of reserved cooking liquid over each dish.
Combine breadcrumbs, lemon zest and herbs in a bowl and season with sea salt and freshly ground pepper.
Melt butter in a small frying pan, add garlic and stir for a few minutes until fragrant but not browned.
Drizzle a Tablespoon of garlic mixture over each dish, return pan to heat and add the breadcrumb mixture to remaining butter and stir for two minutes or until well combined.
Sprinkle breadcrumb mixture evenly over shellfish and place under a hot grill for 3 minutes or until golden and crisp. Serve hot.