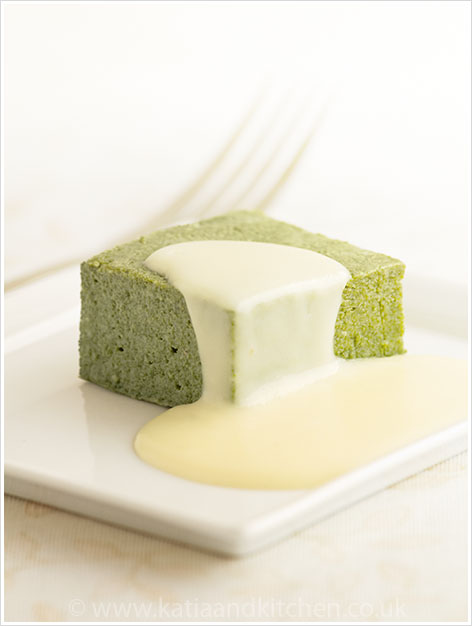 Parsnip? What's that? Don't even think this flan is one of my Italian recipes because… that's not p-o-s-s-i-b-l-e.
Simply, the Italians, or most of them, ignore the existence of this root vegetable related to the carrot: it doesn't belong to the traditional Italian variety of food and vegetables.
So, this recipe doesn't come from Italy but from a French chef, Michel Richard; his book, "Happy in the kitchen", was one of my discoveries while I lived in California.
This is a delicious and very easy to make appetizer: the colour is a bright green and the texture is very fluffy, a perfect marriage with the smooth and velvety fondue. These spinach bites are a smart dish and, most of all, they can be made ahead and then warmed through before serving. And yes, I definitely loved parsnips :- )
Fluffy spinach and parsnip bites
(baking pan: 25×25 cm)
450 gr fresh spinach
230 gr parsnips, peeled and chopped
230 ml cream
50 gr unsalted butter
50 gr grated parmesan
4 free-range eggs
1 tsp caster sugar
1 tsp salt
1 Tbsp gelatin powder (or 3 sheets)
Fondue:
150 gr grated fontina
1 Tbsp flour
1 tsp extra virgin olive oil
120 ml whole milk
2 tsp grated parmesan
1 pinch of cayenne pepper
Melt the butter in a large sauté pan over medium heat. Add about ⅓ of the spinach to the pan and move it around with a wooden spoon until it begins to wilt. Gradually add the remaining spinach, stirring constantly, until all the spinach is wilted. Remove from the heat and spread the spinach on a baking sheet to cool.
Once it is cool, wring out the excess liquid from the spinach by hand or in a clean kitchen towel. Set aside.
Place the parsnips (peeled and chopped) in a steamer basket over simmering water, cover and steam until completely tender.
Combine the parsnips, cream, and spinach in a blender and blend well, about 1 minute. Add the eggs, sugar, salt, pepper, gelatin and parmesan, and blend until completely smooth and aerated, about 2 minutes.
Line a square baking pan (25×25 cm) with aluminum foil, leaving an overhang on two opposite sides and making certain to get into the corners. Lightly coat the aluminum foil with butter.
Strain the mixture into the baking pan (straining will eliminate air bubbles). Place in the oven and bake for 30-35 minutes, until puffed; the center should be firm to the touch.
Let cool to room temperature, then cover with plastic wrap and refrigerate to chill completely, or for up to a day.
When ready to serve: carefully lift the foil and remove the spinach lock from the pan and place it on a cutting surface. Trim the edges and cut the block into pieces and bake for 10 minutes or until warmed through.
For the Fonduta sauce: whisk together the flour, olive oil, and ½ cup of milk in a medium microwave-safe bowl. Add the cheeses and whisk again. Microwave for 2 minutes. Remove and whisk vigorously until smooth. Place back in the microwave for 1 to 2 minutes, or until the cheese has melted. If the sauce is too thick, whisk in additional milk. Season to taste with salt & cayenne pepper.