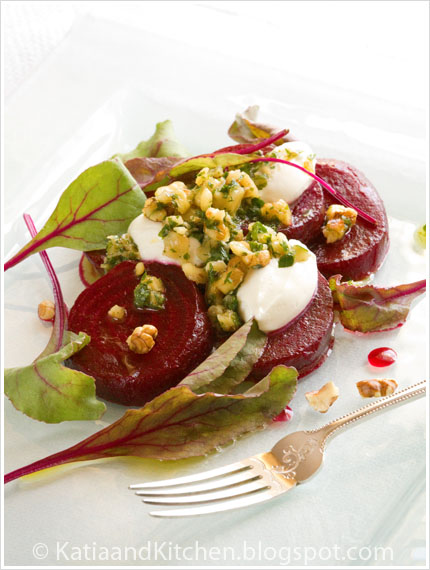 This is another great combination: beetroot, goat cheese and walnuts.
I love beetroot: it's so refreshing, tasteful and healthy. It also creates a great colour to the dish.
This salad definitely belongs to the "impress for less" recipes: inexpensive, easy to make and, last but not least, one of my staples in this period (you know, post-Xmas diet, needless to say).
This is a relaxed version of one of Jason Atherton dishes: he was the Executive Chef at Gordon Ramsay's Michelin starred Maze in London. A couple of years ago I got his "Gourmet food for a fiver", a book where he mixes his creative style and original flavour combinations to create gourmet meals within a budget.
Well, it's a lovely way to save time, calories and money. Why not? :- )
Beetroot salad with goat cheese and walnuts
(Serves 4)
3 red beetroot, washed
1 plain goat cheese log (150gr)
40 ml milk
40 gr baby chard leaves (or mixed baby green)
extra virgin olive oil
walnut dressing:
100gr walnuts, chopped
15gr parsley, chopped
1 clove of garlic, crushed
2 tbsp white wine vinegar
150 ml extra-virgin olive oil 
Glaze:
40ml thin honey
50ml red wine vinegar
65ml extra-virgin olive oil
My adjustments: according to my taste I reduced the amount of vinegar and olive oil.
Preheat the oven to 200C.
Trim the tops and root from the beetroot and put into a saucepan. Cut off and chop a quarter of one beetroot and add to the pan.
Loosely wrap all the rest of the beetroot in foil, sprinkle with a little salt and bake until tender (1-11/2 hours). Unwrap and leave to cool. If you want to save time use pre-cooked beetroot.
In a small bowl, mix the goat cheese with the milk using a fork. Cover and refrigerate.
For the walnut dressing: toast the walnuts in a dry frying pan until light golden and starting to give off a nutty aroma. Tip into a bowl and add the herbs, garlic, vinegar and olive oil.  Stir to combine and season with salt to taste.
Peel the cooled beetroot and set aside (add the skin to the other trimmings).
To make the glaze: pour 200-300 ml water over the beetroot trimmings to cover them. Bring to the boil and simmer for 10 minutes. Strain, discarding the trimmings, and return to the pan.
Whisk in the honey, vinegar, olive oil and some salt. Simmer until reduced to syrup glaze (6-8 minutes).
Cut the beetroot into wedges. Toss in to the pan and gently move them around with a spoon to coat with the glaze and heat through (3-5 minutes).
Place a ring of beetroot wedges on each plate and drizzle with the glaze, dollop the goat cheese in and spoon on the walnut dressing.
Arrange the salad leaves decoratively and a little of olive oil and sea salt.