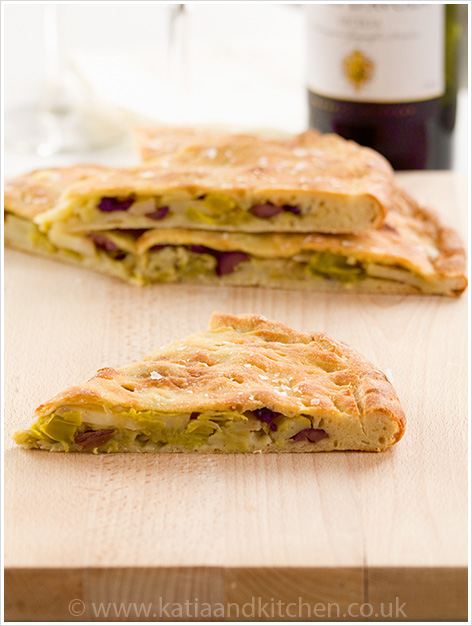 I moved back to London just 4 months ago, after being constantly on the move for a while, but it seems I've finally found stability again and, needless to say, I'm pretty happy about that. I've already started going to the farmers market on Sunday morning (uhmm, well, not every Sunday) and that's definitely a good sign.
Talking about farmers market, what would you do after having got lots of leeks? Yes sure, soups and risotto are the first things that come into my mind, but this time I've decided to indulge myself a bit more with some carbohydrates, with some warm and fragrant focaccia… So goooood!
So, here's the recipe for a tasteful and easy leek and olive stuffed-focaccia, and I would recommend to use some decent and tasty black olives instead of those pitted and tasteless olives straight from the can. Sprinkle with some Maldon sea salt and put into the oven… and you'll be  happy in just 20 minutes!
Focaccia stuffed with leeks and black olives
(baking tray: 30x30cm)
250 gr bread flour 
3 dried yeast
¼ tsp sugar
150 ml water
2 Tbs extra virgin olive oil
1/2 tsp sea salt
4 leeks, trimmed and sliced
1 small potato, peeled and sliced
25 black olives, pitted
1 Tbs extra virgin olive oil
2 Tbs parmesan, grated
1 sprig of thyme
sea salt e fresh black pepper
Maldon sea salt or rock salt
Dough

: combine sugar and 100 ml of lukewarm water in a medium bowl, sprinkle with yeast and stand for 10 minutes or until foamy.

Add the remaining water (50ml) and flour, a few tablespoons at a time, stirring with a wooden spoon. Mix oil and salt together and add to the flour mixture.

Knead the dough on a floured surface for 5 minutes or until smooth and elastic, shape into a ball and transfer to the oiled bowl, cover with plastic wrap and stand in a warm place for 2 hours, or until doubled in size.

Stuffing

: heat the oil in a large saucepan, add leeks, potato and stir over low-medium heat for 5 minutes. Add olives, parmesan, season to taste with sea salt and freshly ground pepper and remove from the heat.

Preheat the oven to 200 C.

Down down the dough and divide into 2 pieces. Roll out the first piece on a lightly floured surface to a 30 cm round, place it on a oiled pizza tray and scatter the filling mixture over it.

Roll out the remaining dough to form another round, place over filling (the leek mixture has to be drained and cold), then pinch edges together to seal.

Using your finger press all over the surface, prick the focaccia with a fork, brush with some olive oil and sprinkle rock sea salt over.

Bake for 20 minutes or until the focaccia is golden. Let it coll slightly, cut into wedges and serve.