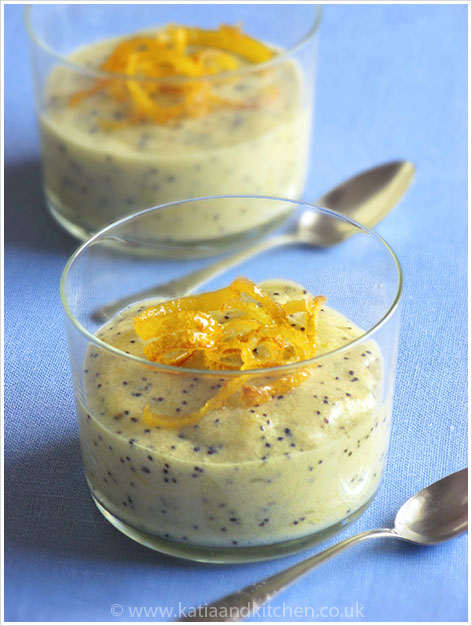 Finally a gorgeous sunny w.e. in London!
Last Sunday I woke up and my neighbours were happily preparing their bbqs. I have to say that I live surrounded by neighbours with gardens and bbqs, so I was definitely in a holiday mood.
That's the main reason why I decided not to enter my kitchen for two days: I have been out walking like a tourist forgetting my newborn blog ; )
Actually I made this mousse one month ago.
It's a frozen lemon mousse whose colours are inspired to this beautiful blue sky. I love its potent flavour made with lemon and just a bit sweet. If you prefer a more delicate texture you could pass it through a sieve and reduce the lemon juice while adding a bit more sugar.
This version is the strong one, my favourite: a refreshing and digestive mousse which would be perfect after a barbeque.
Frozen lemon mousse with poppy seeds
(Serves 4)
3 eggs (separate whites and yolks)
80 gr caster sugar
70 gr whipped cream
3 unwaxed lemons
1 ½ gelatine leaves
2 tbsp poppy seeds
Grate the zest of three lemons (remove one of them with a zester or a vegetable peeler, you'll use it to decorate).
Squeeze all lemons and soak the gelatin in the water.
In a saucepan beat the egg yolks and sugar and whisk till mixture is very fluffy and pale in colour.
Add the lemon juice and cook over medium heat, whisking constantly and vigorously for about 5 minutes, until the mixture thickens and becomes mousse-like.
Remove from the heat, whisk in the gelatin, add lemon zest, poppy seeds and leave the mousse mixture to cool.
Meanwhile, beat the whip cream to stiff peaks and add, gently fold it into the lemon curd.
In another bowl, whisk the egg whites until stiff peaks form and fold into the cream mixture stirring until it begins to thicken.
Pour into 4 or 6 glass and decorate with a lemon zest cooked for about 10 minutes in 50 gr of water and 50 gr of caster sugar.
Refrigerate immediately for one hour into the freezer, then pass the mousse into the refrigerator for a minimum of two hours before serving. Serve extra cold.