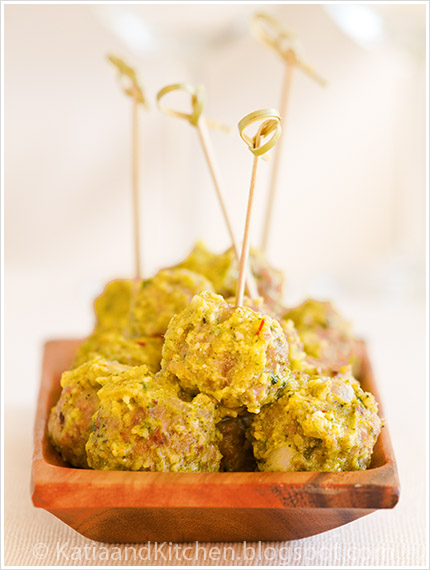 I made these albondigas/meatballs when I lived in San Francisco. It was the Oscars night and I seriously planned to watch the show on television with my husband and my friend: three movie-addicted stuck on the sofa and surrounded by tapas, finger-food and wine. Yeeees, the plan was lovely.
The picada is one of the characteristic sauces essential to Catalan cuisine and it's added as a seasoning during the cooking of this recipe. I served this dish as an appetizer and I used half ingredients to make around 25-30 little meatballs. A very rich and tasteful tapas.
Albondigas with almond sauce
Meatballs:
450 gr ground beef
450 gr ground pork
2 slices bread (60gr)soaked in water and squeezed dry
2 garlic cloves (minced)
3 Tbsp fresh parsley (chopped)
1 free-range egg
1 tsp sweet paprika
½ tsp ground nutmeg
1 tsp salt
½ tsp freshly ground pepper
Picada:
2 garlic cloves (minced)
3 Tbsp finley ground almond
2 Tbspfresh parlesy (minced)
½ tsp sweet paprika
A few saffron threads, crushed
Salt and freshly ground pepper, to taste
Olive oil for deep-frying or sautéing
All-purpose flour for dusting
Sauce:
2 Tbsp of extra virgin olive oil
1 onion (finely chopped)
100 ml dry white wine
150 ml vegetable stock
To make the meatballs, in a bowl, combine the beef, pork, soaked bread, onion, garlic, parsley, egg, paprika, nutmeg, salt and pepper. Knead with your hands until well mixed. Cover and refrigerate for 1 hour, as the mixture is easier to work with when cold.
To make the picada, in a mini food processor or mortar, combine the garlic, almonds, parsley, paprika and saffron, and process or grind to a paste. Season with salt and pepper. Set aside.
In a deep-fry pan over medium-high heat, pour in olive oil to a depth of 2 inches in a frying pan. While the oil is heating, form the meat mixture into 1-inch balls and dust them with flour, coating evenly.
Working in batches, slip the balls into the hot oil and fry until golden, about 4 minutes. Using a slotted spoon, transfer to paper towels to drain. (Alternately, in a large fry pan over medium heat, warm a little olive oil and sauté the meatballs until well browned on all sides, 8 to 10 minutes.)
To make the sauce, in a large fry pan over medium heat, warm the olive oil. Add the onion and sauté until tender, 8 to 10 minutes. Add the wine, broth and meatballs and simmer over low heat for 5 minutes. Add the picada and cook for a few minutes more to blend the flavors. Taste and adjust the seasonings. Transfer to a serving dish and serve hot.