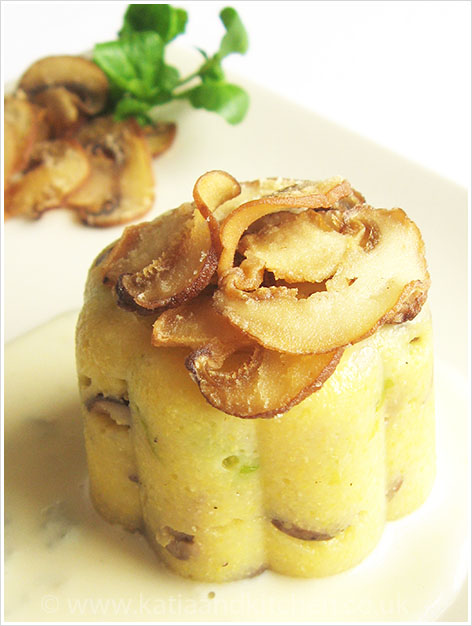 Polenta, typically a winter main course from the north of Italy, it becomes an interesting starter seasoned with ingredients like mushrooms and Gorgonzola cheese. I love gorgonzola and finally after 10 years my husband has begun to appreciate it too, this finally allows me to use it as I prefer, and last but not least, both of us are happy!
Actually I used a pre-cooked polenta: just because it's spring, I wouldn't in my wildest dreams stand an hour in the kitchen over a steaming pot! Moreover, in London I don't have a copper polenta pot and probably never will.
This flan is a good idea for a great lunch: small, light fondue and a little crispy fried mushrooms … I would say a nice starter over the year!
Mini polenta with leeks, mushrooms and zola fondue
(Serves 4)
Polenta and Mushrooms:
150 gr. instant polenta
200 gr. mushroom
2 leeks
½ shallot
1 sprig of rosemary
Wash, dry and slice leeks and mushrooms (set aside about ¼ for frying). I used mixed mushrooms and I also added a small handful of dried porcini just to give a little more flavour (in this case soak the porcini for 10 minutes).
Heat two tablespoons of oil into a non-stick pan and, without frying, brown the chopped shallots with the rosemary. After a couple of minutes add leeks and mushrooms and mix well.
Cover with a lid and cook until the mushrooms are tendern season and set aside.
As I said I used some instant polenta, namely the Valsugana. I used about 150 gr of polenta  and  500 ml of boling water with a pinch of salt, stirring for 5 minutes on a low heat (cook it according the pack instruction).
When the polenta is ready turn off the heat and add the mushrooms and leeks dressing.
Stir well and put the mixture into 4 moulds pressing with a spoon. Chill until set, about 1 hour.
Zola fondue:
120 gr of Gorgonzola
100 ml of fresh whole milk
To make the fondue, pour the milk into a heavy-based pan, add the cheese and place over a low heat.
Stir constantly, taking care to dissolve the cheese. The cream is ready when the cheese has melted. However, as the polenta absorbs too much, it's better to keep the fondue a bit liquid and light.
Slice thin the mushrooms that you will be taking part, flour and fry in hot oil about 2 minutes per side until they are golden and let them dry on kitchen paper. It's nice to serve the mini polenta with 6 or 7 hot and crispy slices on each plate.