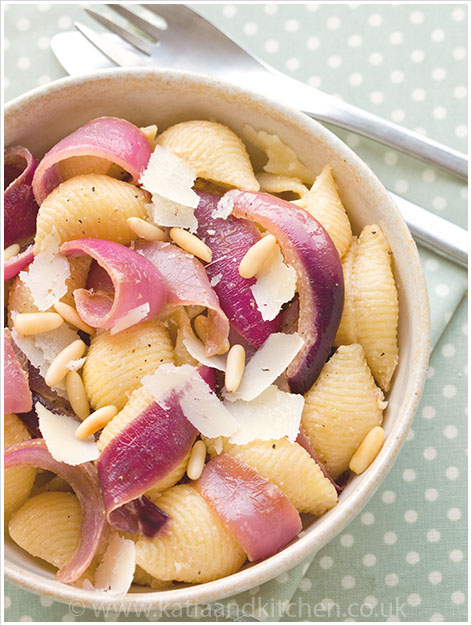 It's time to leave, again. It's time to say goodbye to California.
I've really enjoyed my American chapter, but even if this is the "last" recipe over here (tomorrow I'm packing all my stuff, starting from the kitchen), I don't want to talk about my runs along the Ocean, not even I would mention my friends or the stunning Golden Gate, the skyline or whatever…
Sorry, I get emotional… so stop talking about me and let's change the subject  ;- )
These caramelized onions are definitely an American style ingredient. They use caramelized onions as a topping for a large variety of dishes, from pizza to hamburger. Well, I love them, especially if combined with goat cheese, and I think this mixture is a lovely combination of flavours for a tasteful pasta dish.
Conchiglie/shells with caramelized onions and goat cheese
(2 people)
170 gr pasta
2 large red onions (sliced)
70 gr soft goat cheese
1 Tbsp pine nuts
1 tsp brown sugar
2 Tbsp balsamic vinegar
extra virgin olive oil
2 Tbs shaved parmesan
Heat a large skillet over a medium heat, stir in the pine nuts and cook until slightly toasted. Set aside.
Heat extra-virgin olive oil in the same skillet over medium-low heat.
Stir in the onions and brown for a few minutes or until tender.
Add sugar, vinegar and stir on a low heat until well caramelized (7 to 10 minutes).
Bring a large pot of water to a boil over high heat. Salt the water and add the pasta. Cook to al dente and drain.
Toss the pasta with onions, goat cheese and pine nuts, stirring on a low heat for 2 minutes.
Serve with shaved Parmesan and some freshly ground black pepper. Serve hot.