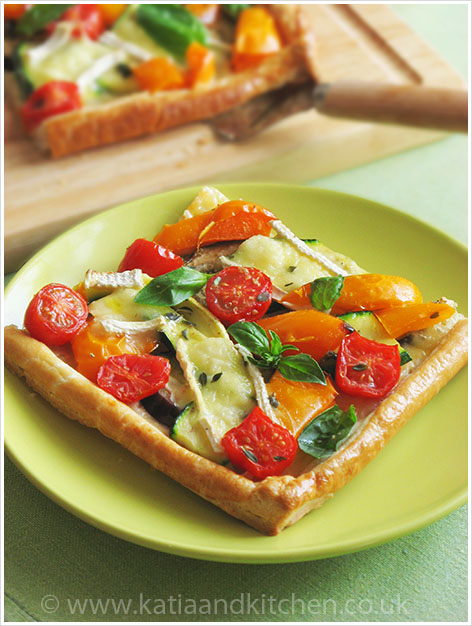 This tart lasted just 10 minutes, the time to take some pictures of it and, after this, it literally disappeared: we have eaten it on our feet looking through the window, chatting about the weather (are we becoming more English, maybe?) and talking about our Saturday afternoon.  It's really an easy-going vegetable tart.
Make it with nice vegetables like aubergines, peppers and courgettes, sprinkle with some extra virgin olive oil and garnish with some tasty cheese like brie.
It's really nice for every occasion, serve it hot as a starter or cold and cut into squares as a finger food… it's great to eat whilst looking through the window as we did.
Vegetable and brie tart
ready-rolled puffed pastry, 1 pack (250/300 gr)
brie, 80 gr
orange pepper, 1
courgette, 1
aubergine, 1 small one
cherry tomatoes, 12
egg, 1
fresh basil leaves
fresh thyme
origano
extra virgin olive oil, 50 ml
salt
Preheat the oven to 180 C and take the pastry out of the fridge 20 minutes before using.
Deseed and cut into chunks the pepper, slice the courgette and the aubergine and put into a bowl. Season with a pinch of salt, thyme, oregano and a drizzle of oil and toss together.
Unroll the pastry on a to a lightly greased baking sheet. Brush the whole thing with a beaten egg then score 1 cm border around the pastry.
Scatter the pepper over the pastry and bake in the preheated oven for 15 minutes.
After 15 minutes, take the tart out out of the oven and top with the other vegetables, some cherry tomatoes and slice of brie. Bake again for 10-15 minutes until the pastry is golden and the vegetables are tender.
Serve warm or at room temperature scattering over an handful of basil leaves and some oil.