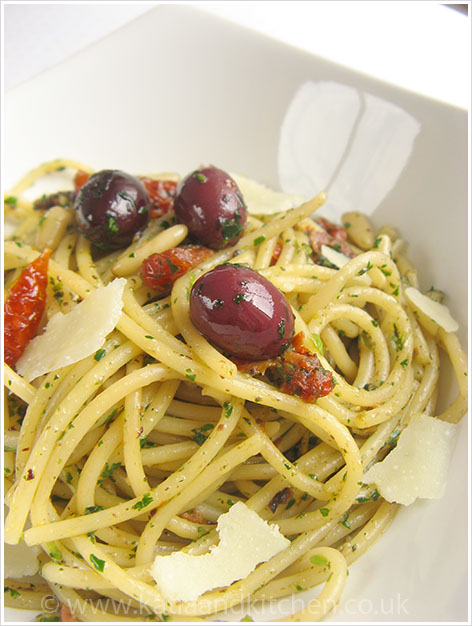 As I said recently I've began to reduce sweets and sugar in my diet . The main reason is not to get into a shape for a bikini, because I'm not going to the sea and I'm not wearing a bikini at all, the point is rather the desire to taste exclusively fresh and seasonal vegetables, herbs and fruits. Ahhh, wonderful summer! If I'll be able to lose a few pounds I would be very glad if not … it doesn't matter.
During this season I enjoy making fresh pesto: some extra virgin olive oil, a little handful of nuts or pine nuts, fresh and scented herbs .. and here we go: pesto is ready.
You can refrigerate this pesto for few days covered by some oil, and it is incredibly useful:
you can use it to dress pasta salad or rice in summer, or you can spread it on a toasted slice of bread to accompany hot soups in the winter.
Spaghetti with watercress pesto, sundried tomatoes and black olives
(Serves 4)
50 gr. watercress
30 gr. pecorino cheese
1 small garlic clove (crushed)
50 ml extra virgin olive oil
1 tbsp pine nuts
1 generous handful of pitted black olives (Taggiasca olives would be perfect)
5 sundried tomatoes
320 gr. spaghetti
Put the watercress, garlic, pecorino cheese, pine nuts, part of the olives and part of the sunderied tomatoes* in a food processor and reduce, adding the extra virgin olive oil as you go.
Place in a large bowl and season with salt and freshly ground pepper, mix well and leave to rest for a while.
Cook the spaghetti according to pack instructions then drain. Toss the pesto, the rest of the black olives and chopped sundried tomatoes, mix until the sauce is well distributed. Serve with extra toasted pine nuts if you like.
* Soak the tomatoes in enough hot water to cover about 15 minutes or until tender; drain, chop them and stir in the pesto.