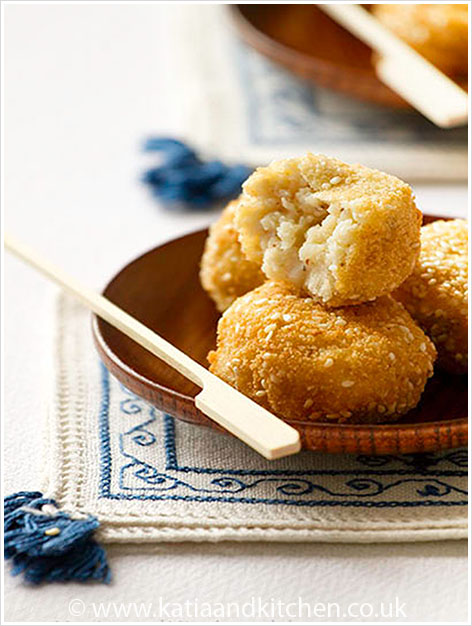 To buy or not buy a deep fryer? The list of small appliances that I would buy stretches alarmingly every day.
Last Saturday I fried these croquettes using my wok pan, I was delighted with the result because I fried them quickly and without odour. At least thats what I thought, but sadly I changed my mind when I came back home on Sunday night: the frying smell was still lingering around while the croquettes had gone  for a while.
The deep fryer is a sort of dilemma for me, whenever I'm about to buy it someone tries to destroy my weak conviction. On the one hand my husband says that it is an unnecessary appliance since there are only two of us and I'm on a diet (he thinks I'm always on a diet, even if I eat the same things he eats!).
My mother offered her beautiful and pristine deep fryer persuading me not to buy a new one… it doesn't matter to her if I can't bring it to England.
Oh my goodness, this is a frustrating and useless dilemma so I need to ask you: do you have a deep fryer or not ?
While I wait for someone to enlighten me, I introduce these crispy and tasty croquettes made with Camembert and hazelnuts. I definitely don't suggest this recipe for a low calorie diet but I would recommend them to make your spoilt friends happy.
Potato croquettes with Camembert and hazelnuts
(Serves 6)
700 gr patatoes
150 gr camembert
3 tablespoons hazelnuts, finely grounded
3 eggs
breadcrumbs
3 tablespoons sesam
oil
salt and pepper
Wash the potatoes and cook them for about 40 minutes or until cooked.
Peel and mash the patatoes in a bowl making a smooth puree.
Add an egg yolk, the cheese cut into small pieces and hazelnuts.
Add salt and pepper, stir well and make many small croquettes with your hands.
Mix sesame seeds with the breadcrumbs;  beat the eggs in a separate bowl.
Dip the croquettes in beaten eggs then coat with the breadcrumbs and sesame mixture.
Deep fry the coated croquettes in the hot oil for a 2 or 3 minutes until light golden brown and drain on kitchen paper. Serve hot.