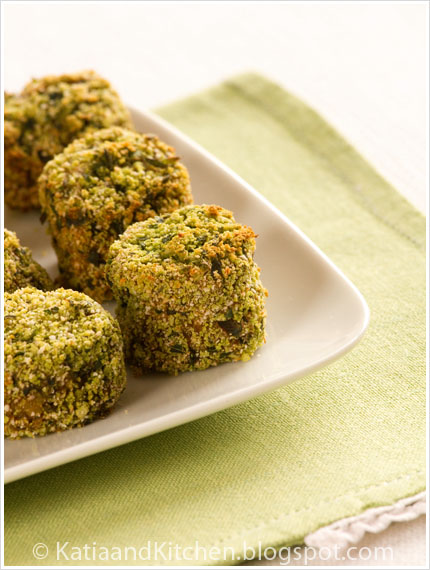 This is an interesting and unusual way to cook turkey and chicken, especially if you're fed up with the dullness of a turkey breast. The sweet paprika works perfectly for my taste, but of course you can replace it with the spicy paprika if you like. Herbs and bread give the right crunchiness to the dish… I loved it!
Sweet paprika and herb turkey bites
(3-4 serves)
500 gr turkey breast (or chicken)
2 Tsb sweet paprika
3 Tbs soya sauce
3 slices of white bread
1 small clove of garlic, squeeze
1 Tbs of fresh parsley, chopped
1 Tbs of fresh thyme, chopped
1 Tbs of fresh basil, chopped
1 Tbs of fresh marjoram
Cut the breast into cubes around 4 cm (not too small).
In a bowl make a marinade mixing a bit of water (20 ml), soya sauce and paprika.
Toss in the turkey pieces, well combine and put in the fridge overnight.
Preheat the oven to 200C.
Combine the bread (trim the edges first), herbs, garlic and a pinch of salt in a blender: you want a green and crumby mixture.
Remove the turkey from the bowl, drain well and cover each piece with the mixture.
Place them on a backing tray lined with parchment paper and bake for about 20-25 minutes (it depends on the size of each piece).

Just test the cooking after a while: try just a piece and if cooked and still moist, remove immediately from the oven

.