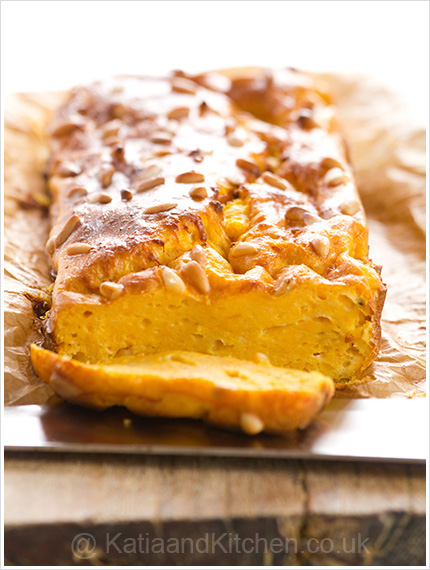 I love the orange and healthy pumpkin, it's one of my staple during this cold season when nothing beats my creamy and nourishing soups. And I'm talking of hundreds of pumpkin soups, in my case.
However, this rustic terrine is a different way to enjoy this golden squash.
Some tasty parmesan cheese and nutmeg will enhance its lovely flavour, while some pinenuts will add some crunchy texture.
Lovely as an everyday main course or impressive as a starter with some velvety cheese fondue on the side.
Ingredients
Pumpkin (steamed and well drained) 480 gr*
Free-range eggs, 4
Flour, 50 gr
Breadcrumbs, 2 tbs
Parmesan cheese, grated 80 gr
Double cream, 2 tbs
Pine nuts, 30 gr
Salt, ½ tsp
Ground nutmeg
Pepper
* Roughly 800 gr of raw pumpkin.
Steam your pumpkin until very tender. Drain, cool and mash it.
Preheat the oven to 180 degreed.
Beat together the eggs, cheese, cream, salt, pepper, nutmeg.
Add flour and breadcrumb and mix well.
Add your pumpkin into the egg and cheese mixture and mix well.
Line a loaf pan with parchment paper (Cut two strips of paper. One the width of the sides and one the width of the ends).
Scatter half of the pine nuts over the bottom of the loaf pan, pour the pumpkin mixture, make a smooth terrine and sprinkle all over the rest of the pine nuts.
Bake for about 45 minutes or until the tip of a knife inserted in the middle comes out clean.
Cool and when ready to serve, use the parchment paper "handles" to carefully lift the terrine from the pan.
Slice and serve warm or at room temperature.